It's time to get spooky with a month of pumpkin-themed puns! Whether you're carving a pumpkin or cooking up some pumpkin pie, there's no shortage of jokes to be shared. So gather your family around and enjoy these Pumpkin Puns together!
Do you know why pumpkins are associated with Halloween? Pumpkins were used by Irish immigrants to the United States as a way to scare the evil spirits away. Over time pumpkins were then made into funny, and even spooky faces that later became known as Jack-O-Lanterns.
This Halloween as you are craving your Jack-O-Lanterns you might consider sharing some funny pumpkin puns or jokes. This would be a great way to spend time as a family and make new memories together.
If you would like to share some other great jokes or puns with your family or friends, be sure to check out our 80 Turkey Jokes For Kids as well as our Bridge Puns.
What Is A Pun?
A pun is a joke that uses words that sound alike but have different meanings. Puns can be serious or funny, but they are always clever. For example, you might say "I'm reading a book about anti-gravity. It's impossible to put down!" Puns often use words with multiple meanings, like "rose" (a type of flower or an indication of something being romantic).
They can also use homophones, words that are pronounced the same but have different spellings and meanings, like "break" (to shatter or to take a rest). Kids especially love puns because they are fun to figure out.
Do your kids love jokes?
Grab these fun joke cards for them to laugh at all the time! These make great lunch box jokes, joke card series, bedtime laughs, and more!
Grab your set now! There are over 50+ pages of jokes included! This is a digital download, so it is easy! Just download, print, and enjoy!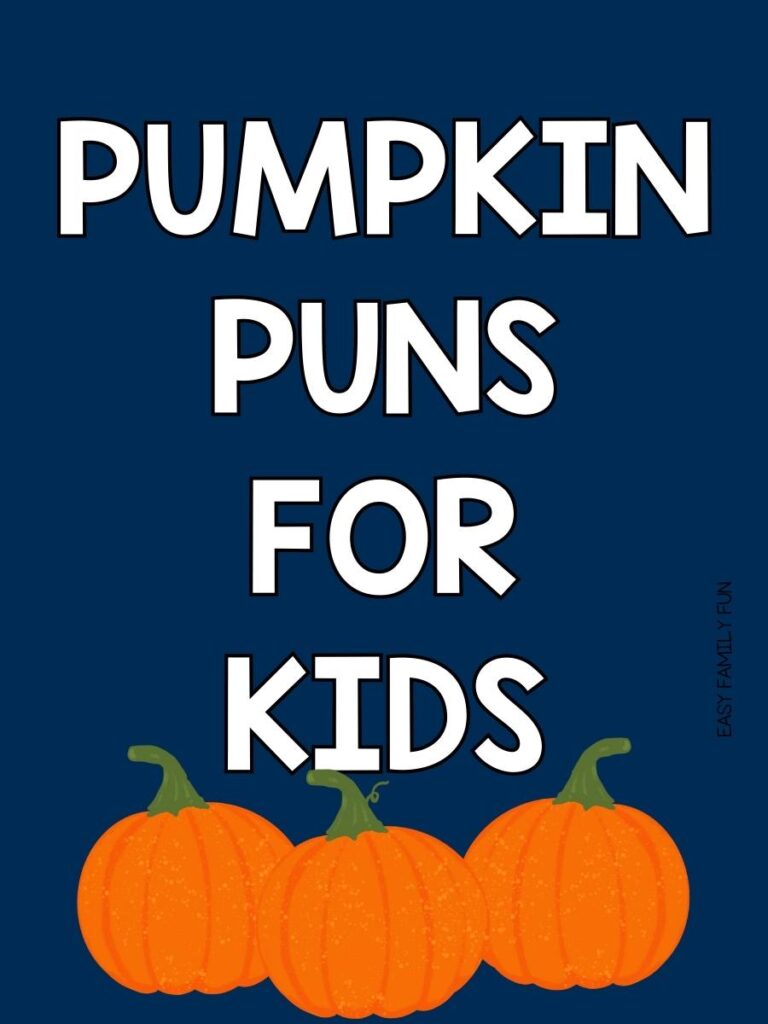 The Best Pumpkin Puns
Give them pumpkin to talk about
Pumpkin up the volume!
Pumpkin spice up your life
The best thing to put in a pumpkin pie is your teeth
Pie love you, cutey pie
Beauty is in the pie of the beholder
Pie one, get one free
A latte fuss over nothing
Carve out a niche
Ahead of the carve
I want to suc-seed
Gourd luck
My star sign is Spisces
Give it a roast
Pumpkins are an Autumn romance
Squashed it!
An act of gourd
Don't chai this at home
Take this pumpkin or leaf it
I love pumpkins so much I can feel it in my vines
Pumpkin is soup-er
Puree and simple
Better latte than never
Pumpkins
I spy with my little pie
Right bake at ya
Let's lay this pumpkin to roast
You're under a-roast
The bigger the pumpkin is, the harder it will Fall
Pumpkins are Fall of themselves
Squash goals.
Life is gourd.
Gourd big or go home.
Hey gourd-geous!
You're the pick of the (pumpkin) patch.
Have a gourd Halloween.
Let's "carve out" some fun this fall.
Let's give 'em pumpkin to talk about.
I've never met a pumpkin I didn't like.
Oh my gourd! I love fall.
I only have pies for you.
Orange you pumped for Autumn?
Wow, this pumpkin is totally jacked.
Give 'em pumpkin to talk about.
I'm ahead of the carve.
You struck a gourd with me.
I'm on the rind 24/7.
What's cooking, gourd looking?
Be of gourd cheer.
Patch you later!
Don't go(urd) breaking my heart.
Let the gourd times roll!
You are the pumpkin of my pie.
Gourd vibes only.
Say hollow to my little friend!
Let's pumpkin spice things up!
Sorry I'm latte — I had to pick up my pumpkin spice.
I know a latte pumpkin spice puns.
Unless it's pumpkin spice, I don't give a frappe
Me + PSL = Squashgoals.
Life is gourd when it's pumpkin spice season!
I only drink pumpkin spice — just call me a basic witch.
Pumpkin Spice and everything nice.
Blood type: Pumpkin Spice.
Pumpkin up the Volume
Forest Gumpkin
Halloween
Star Gourds
Good Will Pumpkin
Pumpkin's Gotta Give
S(p)eed
How the Grinch Stole Halloween
Miami Spice
The Lion Pump-king
Pump-kin of Queens
Carve Your Enthusiasm
The Tiger Pumpkin
Orange is the New Black
American Gourds
Better Call Fall
The Fall
House of Gourds
Rick and Gourdy
A pumpkin a day keeps the goblins away!
My gourd luck charm.
Get pumped for Halloween!
I'm the pun King
I've been pumpkin iron at the gym
I'm a little bit of a country pumpkin
Let's give 'em pumpkin to talk about.
Pumpkin out puns like it's nobody's business
You've got to be pumpkin-ding me!
Beauty is in the pie of the beholder
Cutie pie
I only have pies for you
I spy with my little pie
I've got my eyes on the pies
Pie love spending time with you
Pie've been waiting all season for this
Pumpkin pi
You occu-pie my thoughts
Carving out some time for fun
Don't be a jerk-o-lantern
Get off my jock-o-lantern
I have to spill my guts; I love Halloween!
I'm ahead of the carve.
I'm feeling empty inside
Let's get glowing
Let's get lit!
Happy Hollow-ween
Hit the road, jack-o-lantern
Time to jack up my pumpkin
You don't know jack-o-lantern
Your smile lights up a room
Hollow-queen.
Do you have some other favorite pumpkin puns that you love? Share them in the comments so we can add them to the list!
Love Puns? Check these out:
Don't forget to subscribe to our email list so that you know when we add more great jokes to the site that will leave you laughing for hours!
How Do I Access My Joke Cards?
Fill in the form above. You will receive an email in your inbox. If you don't see it check your spam folder! You will then click to confirm your subscription. Once confirmed, you will be taken to Airtable (a different website) where all our free printables will be waiting for you! It is free to sign up for Air Table!
How Do I Print A PDF?
You'll need a program that supports PDFs. Adobe Acrobat is a great option. Open the program, click file, then print. Select your printer and the number of copies you want to print. Be sure you click double-sided if you want it to print on both sides. 
Can I Resell These?
You may not resell any printable that you find on our website or in our resource library. You may use them for class parties, at church, at home, or in the classroom. You may get these printed at an office supply store or copy center at your own expense.